Rebecca Wardell
2008 Beijing Summer Olympics (Heptathlon)
New Zealand Record Holder 400m Hurdles (56.25 seconds)
2010 & 2006 Commonwealth Games Athlete (New Zealand)
New Zealand Record Holder 4 x 400m Relay & 4 x 100m Relay
Dr. Mulholland is one of the most outstanding chiropractors I have ever worked with. I came to him for assistance with a serious hamstring injury prior to the London Olympic Games.  He was able, in a very short time frame, to speed the healing and recovery. His understanding of the human body and the needs of athletes is second to none. I really like his holistic approach that looks at the whole body rather than parts in isolation. I would highly recommend Dr. Mulholland to any athlete, team, or weekend warrior looking to get the most out of their body.
Sam Webster
2014 World Champion in the Men's Team Sprint (Track Cycling)
Gold Medal in the Individual & Team Sprint at 2014 Commonwealth Games
Bronze Medal in Men's Team Sprint at 2012 World Championships
2009 3-Time Junior World Champion (Track Cycling)
10-Time New Zealand Champion
9-Time New Zealand Record Holder
From working with Dr. Mulholland, I noticed great gains on the bike and in the weight room. His treatments are precise and accurate.  He helped me overcome an hip injury, and helped me focus on injury prevention. I also noticed greater comfort while training on my bike, which led to the ability to produce more power!
Steve Langton
2014 Olympic Bronze Medalist (4-Man Bobsled)
2014 Olympic Bronze Medalist (2-Man Bobsled)
2012 Bobsled World Champion (2-Man & 4-Man)
2011 Bobsled World Push Champion
2010 Winter Olympian in Bobsled (2-Man & 4-Man)
U.S.A. Bobsled National Push Champion (2010, 2011, & 2012)
Northeastern University's Track & Field Team
Competitor on "The Amazing Race" television series (2015)
Throughout the entirety of my career, Dr. Mulholland has been a mainstay as a medical provider for the United States National Team.  Undoubtedly, Dr. Mulholland's commitment, knowledge and skill set has kept myself and my teammates healthy and at our best, season after season. Go USA!
Curt Tomasevicz
2014 Olympic Bronze Medalist (4-Man Bobsled)
2010 Olympic Gold Medalist (4-Man Bobsled)
2-Time World Champion
2-Time Olympian (2006 & 2010)
University of Nebraska Football Team
Dr. Mulholland has an immense amount of knowledge about the function of an athlete's body and the best method to aid rehab and recovery. He's helped me for years stay aligned and compete at my highest efficiency.
Matt Archibald
New Zealand National Team Track Cyclist
Bronze Medal in 1km time trial at 2015 UCI Track Cycling World Championships
Bronze Medal in 1km time trial at 2014 Commonwealth Games
Former New Zealand National Crew Team
600 pound back squat
I would highly recommend working with Dr. Mulholland if you are serious about keeping your body in top shape or want to get back from and stay injury free. From my experience, Jon is easy to work with and has a massive amount of knowledge and experience with all sorts of people.  In a short time working with Dr. Mulholland, he was able to get to the bottom of an injury I had been dealing with for years. He treated the cause, as well as the symptoms.  I have had no problems since, allowing me to train and race at 100%.
Katharine Eustace
New Zealand Women's Skeleton Team
2014 Winter Olympic Games Participant
Licensed Physiotherapist
When I first met Dr Mulholland, he systematically highlighted the imbalances that I had and we worked on them all, with a variety of techniques, to get my body in top shape for the World Cup skeleton race circuit.  He also gave me exercises for some self-treatment so that whilst I was away on tour I could continue to make gains.  This is important for athletes who are on the road a lot or can't get to the clinic all the time.
 Ben Towne, MA, ATC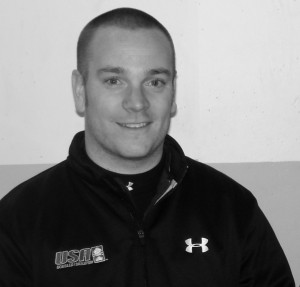 Athletic Trainer for Team USA at the 2014 Olympic Winter Games
Athletic Training Clinical Coordinator – University of New Hampshire
Athletic Trainer for USA Bobsled & Skeleton
He sits on the International Committee of the National Athletic Trainer's Association
Most Outstanding Faculty Involvement Award, University of Southern Maine (2011)
Working with Dr. Mulholland, it is quite clear that his knowledge of anatomy as it applies to physiological function in sport is second to none.  His ability to both treat effectively and willingness to work with other health care providers for the best outcome for each athlete separates him from other professionals.
Adam Thomas, PT, DPT, ATC
Assistant Clinical Professor Athletic Training- Northeastern University
Head Athletic Trainer & Physical Therapist – Boston Cannons Professional Lacrosse Team
Assistant Athletic Trainer – USA Outdoor Lacrosse
Head Athletic Trainer – USA Indoor Lacrosse
Dr. Mulholland is a speaker who I would love to have come to Northeastern yearly to speak to our health care professional students.  I strongly recommend him to anyone looking for an experienced clinician with exposure to a variety of athletic pathologies, new techniques with evidence based medicine, and has the ability to reference many disciplines with the health care field.  You will not be disappointed!