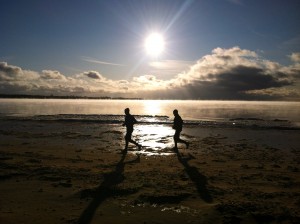 At the heart of what I do is functional movement. The ability of the body to move efficiently is central to being able to perform at your best and stay injury free.
Running is a skill and most people have not been taught how to run. Through my unique assessment and teaching methods, I have developed the ability to help individuals of all levels and from all sports.
 What can I do for you?
Help you stay injury-free
Improve your running technique
Increase your speed whatever your sport
Based on your objectives and what you are trying to achieve, I use:
High-Definition Video Treadmill Analysis
Running Technique Drills
3-D Digital Foot Scanning
Movement Screening
Step-by-Step Coaching
Personalized Exercises
Custom Strength & Mobility Drills
Guidance and Motivation
     Another key function of my Running Analysis program is helping people get back to full fitness after injury or surgery.
If you can answer "

YES

" to any of the questions below, then my Running Analysis Program can help you.
Would you like to start running even if you've never run before?
Would you like to learn to run injury-free and with good technique?
Want to become fitter and run longer than you've ever imagined?
Would you like to be taught by an internationally known running expert who will provide you with the motivation and practical advice to take you to the next level?
The Three Stages to my Running Analysis Program
1.

Move Better

:
Whether you are a beginner or someone who is returning from injury it is likely that you are not moving as well as you need to be.  So one of the first things I do is a detailed Biomechanical Analysis and Movement Screen. Through this assessment, I will be able to identify your weaknesses and movement issues. If you can't move effectively, you won't run efficiently.
2.

Run Better

:
Once I identify your movement issues, I use slow-motion, high-definition treadmill video analysis to teach you the most efficient running style and correct your individual technique errors. I do this through my unique coaching and training methods. This is also when I develop and demonstrate your individualized mobility drills and strength/stability movements that will eventually become your "homework."
3.

Run Faster

:
Once I have improved your technique and movement efficiency, then I can work on improving your speed!  Of course "speed" is a subjective word, and this phase of the session will be based on your objectives, your sport of choice, and your long-term goals.  It will also be dependent on the time and commitment that you have to training and recovery.
How does it work?
The Running Analysis session will last approximately 90 minutes.
The ENTIRE session will be spent 1-on-1 with Dr. Mulholland!

Running Analysis Session Fee?…
Only $199.




 
Your session begins with a Biomechanical Analysis in which I will take video clips of your running on a treadmill. I then use my video analysis software to identify areas that can be improved within your running technique to reduce the risk of injury or improve your performance (or both).
I will also carry out my unique Running Movement Screen and 3-D Digital Foot Scan to look at any weaknesses that could be preventing you from getting the most out of your running program.  This assessment process will guide what mobility drills, stability exercises, and strength movements that I give you to work on to get the most out of your training.
The remaining time will focus on improving the areas that I have identified during your analysis, and to answer any questions you may have.  All of my recommended technique drills, mobility and strength exercises, and training suggestions will be given to you at the end of the session to take home.
As a runner and triathlete, I know first-hand how much money I've lost in race fees and travel expenses from having to drop out of races due to injury.  I know how quickly the frustration and depression sets in when you can't train because you're hurt.
For only $199, let me help you move better, run faster, and injury-proof your body!
Who is this program for?
Recreational Runners
Most people have never been taught how to run. They think running is something you pick-up naturally.  Running is a skill and I can coach that skill in recreational and competitive runners to help them run better, more efficiently and faster. I have helped people from all walks of life, who want to run for fun, keep fit, or participate in a race.
Running is simple, but its not easy!  I can help you to achieve your goals, by coaching you to move better and then run better.
Children & High Schoolers
Children are special! They learn fast and they enjoy their running!  Not all children are natural movers. They develop at different growth rates and this can affect their movement & running ability. My Youth Running Analysis Program is designed for kids from the age of 6 to 16…..and I make it fun!
I look at the way they move and the sport they are involved in, and I get them running more effectively and running a lot faster. I have a special running program for kids, which takes into account their growth, their coordination, agility, size and ability.
I can teach anyone how to run, and how to run faster! Most young athletes run by instinct.  However, they can pick-up bad habits that stay with them through the rest of their sporting career.
More importantly, if they can't run correctly it stops them from improving in their sport.  This leads to frustration, and turns them off to sport and fitness.  They never get the chance to fulfill their potential.
Triathletes
As a 3-time Ironman finisher, and having worked with hundreds of triathletes over the years, I understand the demands of the sport.  I understand the common problems that come with participating in triathlons and the challenges and stresses you place on your body.
Running is the discipline that triathletes generally neglect from a technical point of view.  They either believe they don't need to work on it,  or think it is not possible to work on it. This is simply not true!
Many Triathletes find it difficult to improve their efficiency and speed after injury. This is where I can help.
Walkers
If you can't Run then Walk!  Walking is the next best thing to running.
Walking benefits are hugely underrated and ideal for getting fit if you can't run (or don't want to)!
Most people have never learned to walk correctly.  You don't know how to use your arms, mid section and backside when walking, and think that a 10-15 minute walk every other week means you are getting enough exercise.
I  have developed a program that incorporates walking technique, walking for fitness, and movement re-patterning.  This program is suitable for:
Seniors looking to get fit, stay fit, and improve their balance
People recovering from illness, injury, or surgery
People who do not enjoy running, but want to stay fit
Click Below To Schedule!




or call (518) 324-5000