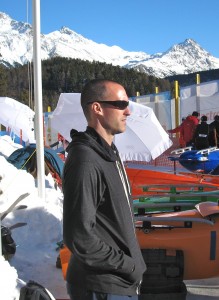 I offer performance-based chiropractic and movement screening at my office in Plattsburgh, NY.  My progressive therapeutic approach uniquely utilizes strength and conditioning movements, joint mobilizations, and cutting-edge manual therapy to achieve superior athletic and functional outcomes. My patients and athletes recover quicker, enjoy greater fitness, and are empowered to manage and avoid future injury and dysfunction.
Because my practice is performance based, many world-class athletes and coaches utilize my services to resolving nagging training limitations like limited joint range of motion and soft tissue dysfunction. I seek out movement inefficiency before it leads to side-lining or career-ending injury. I believe that when an athlete is able to move smoothly through the ranges of motion required by their sport, they are able to optimize their training and continually improve their performance.
I believe that elite athletic performance and sound orthopedic function are one and the same.
I have an established history of working with, and improving the performance of, the world's best athletes. I also regularly consult with Olympic and Professional athletes, national and international teams, Fortune 500 companies, and fire/police departments about improving their training and protecting their athletes.
Let me help you.
Click Below To Schedule!



or call (518) 324-5000
Phone Consultations
Although in-person appointments are preferred, phone consultations (including international calls via Skype) with Dr. Mulholland are available for those who live out of the area or are otherwise unable to make it to Plattsburgh, NY.  These 50-minute phone consultations can be used to discuss current injuries, your current plan of care, your long-term recovery planning, nutrition/weight loss advice, or to develop a specific training program to suit your needs.  I am also happy to go over lab results with you if you do self-medical testing.
Click Below To Schedule!




or call (518) 324-5000