Are you and elite athlete or high-level sports team looking for an experienced sports medicine provider to help you improve performance and decrease your chance of injury?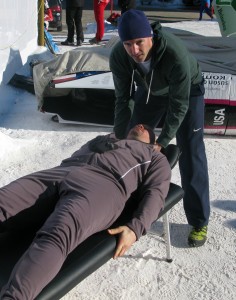 Look no further!
Dr. Mulholland has 16+ years of working with some of the best athletes and teams in the world.  I have personally treated and trained over 100 Olympians and professional athletes.
I've had the pleasure of working with dozens of Olympic medal winners and World Champions.  I've treated athletes at the Olympic Games, Paralympic Games, and multiple World Championship Events in a number of different summer and winter sports.
My professional experiences include:
Member of the New Zealand Medical Staff at the 2012 Summer Olympic Games
Sports Medicine & Performance Enhancement Consultant for the New Zealand Olympic Cycling Teams
Team Chiropractor for the USA Bobsled & Skeleton Teams
Former Chiropractic Consultant for the U.S. Olympic Training Center in Lake Placid, NY
Member of the U.S. Medical Staff at the 2010 Paralympic Winter Games
Team Doctor for the Northwestern Health Sciences University Men's Hockey Team
Athlete Consultant for the Swiss Women's Skeleton Team
Consultant for the Canadian Women's Bobsled Team
Athlete Consultant for the Italian Men's Skeleton Team
My treatment skills and areas of expertise include:
Chiropractic Manipulation & Mobilization
Internationally Certified Chiropractic Sports Practitioner (ICCSP)
Certified Chiropractic Sports Practitioner (C.C.S.P.)
Certified Strength & Conditioning Specialist (C.S.C.S.)
Kinesiotape Provider (Level 3)
Certified RockTape Provider
Active Release Technique (A.R.T.) Provider
Graston Technique Provider
Certified in Hospital Protocols
Certified in Wilderness & Expedition Medicine Concepts
…..and that is just a short list!
I have spent the last several years traveling the globe, fixing athletes and improving performance.  I am available to travel anywhere in the world to meet your needs.  We can customize a consulting plan that could involve just a few days of coverage or a few weeks of helping you through a major International event!  How nice would it be to have a sports medicine expert available to you anytime of the day or night?  Able to get you warmed up before training and patched up after an event.  To work with you on your nutritional and recovery plans and to assist you in the weight room.  To be "on the field" with you on game day…..  That kind of peace of mind for an athlete is priceless.
If you would like more information about the services I can to provide you or your team, please contact me immediately!  My travel schedule fills up quickly and I typically book several months in advance.
I look forward to hearing from you!